Australia
Award-winning advocacy software for Australian nonprofits, corporations, and associations.
OneClickPolitics is the leading advocacy software solution for Australian associations, corporations, and nonprofit groups. Our technology is used by the Business Council of Australia, Australian Christian Lobby, Optometry Australia, and many other prominent advocacy organizations throughout Australia.
We have played a role in every major policy debate in Australia in recent years from the major legislative battles on euthanasia to economic legislation in New South Wales. If your goal is to reach the ears of lawmakers in Canberra; then OneClickPolitics is your key to success.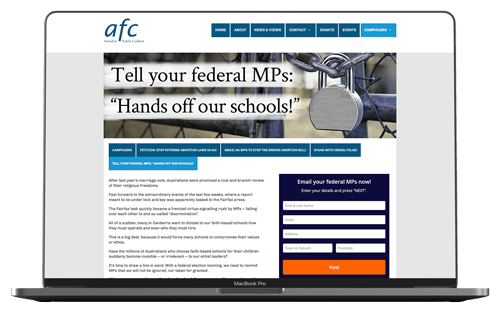 Schedule a Demo Today
We are here to help launch your next advocacy campaign.
Nationbuilder Integration
Mass email and texting tools
Lorem ipsum dolor sit amet, consectetur adipiscing elit. In mi nunc, facilisis sed erat sed, interdum suscipit nisl. Donec ut ligula sed dolor accumsan placerat. Ut sed felis vitae augue condimentum viverra. Praesent condimentum magna sit amet dui interdum sodales. Ut tincidunt ipsum leo, nec hendrerit odio
Match advocates to MP's based on postal code
Full committee listings of all state and federal MP's
Full database with contact information for all state and federal MP's